U.S. Army Medical Research Institute of Infectious Diseases (USAMRIID)

Video Networks, Inc. has supported the Pentagonís counter biological warfare agencies since 1996. Their efforts have resulted in both permanent capabilities at USAMRIID and temporary event-centered support for The Armed Forces Epidemiological Board (AFEB).

Most recently, VNI was tasked with upgrading the training capabilities in the Dalrymple Conference Room at Fort Detrick. As a result of design expertise, the space is now able to provide a flexible environment for a variety of meeting styles. Scientific panels can meet with state-of-the-art wireless transcription technology and Subject Matter Experts are capable of presenting their latest findings, both locally and to related organizations through video conferencing links. Standard briefings and even Christmas parties are easily accommodated with the innovative architecture VNI has implemented.

Military Surface Deployment and Distribution Command (formerly Military Traffic Management Command, MTMC)

Video Networks, Inc. performed its first work at SDDC as a sub-contractor to Navy SPAWAR SYSCOM. SDDC has subsequently issued several contracts directly to VNI for additional enhancements and corrections of work performed by others. During Operation Enduring Freedom, VNI was tasked with upgrading six special purpose rooms at SDDC, providing them with video teleconferencing and collaboration capabilities.

The projectís scope and timeline were aggressive, and required the highest audio and video expertise. As a result, VNI leveraged expensive equipment so that several rooms could ďshareĒ hardware across networks, thus maximizing return on investment and providing access to a wider range of activities.
---
Internal Revenue Service

Video Networks, Inc. was tasked with enhancing the Internal Revenue Serviceís Business Systems Modernization Office (BSMO) Management Information Centersí (MIC) existing capabilities. The ultimate goal of the upgrades was to provide MIC with increased multi-site collaboration in order to eliminate the travel burden.

In order to accomplish this task, Video Networks, Inc. constructed a unique configuration of off-the-shelf hardware that integrated the operation of the visual communication system with the manipulation of the data using IRS standard software applications. VNI designed the user interface for both beginners and power users. From this touch screen, users are able to control the entire system with just a few easy steps. The outcome of this re-configuration was that a single operator could control all the rooms during a meeting, thus eliminating any staff increases to support the technology.

As a result, VNI was able to provide MIC with a command center equipped with optimal technical analysis, deliberation, communication, and meeting and conferencing capabilities.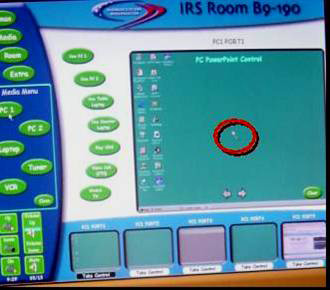 ---
United States Coast Guard

Video Networks, Inc. performed the first major upgrade for the Coast Guard, Commandantís Situation Room (CSR) in 1996. Most recently, The USCG enlisted VNIís expertise to support major exercises and provide updated technologies and advanced communications capabilities in order to improve government and industryís ability to respond to national disasters and direct attacks on our country. VNIís solution equipped the CSR with multi-site video teleconferencing, which provided instantaneous, face to face communications and established a first time ever simultaneous link between the Commandant and Congressional staff members at Coast Guard Headquarters and other key organizations.

As a result of VNIís efforts, the Coast Guard's National Response team is prepared to respond to any major emergency for which its participation is required.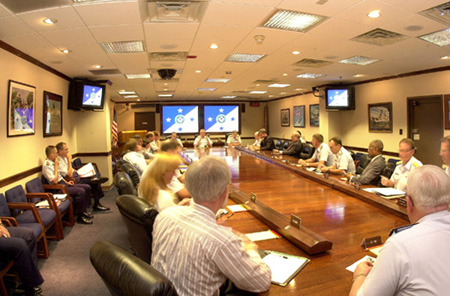 U.S. Coast Guard Photo by Telfair H. Brown
---
The Bureau of Alcohol, Tobacco and Firearms

The Bureau of Alcohol Tobacco and Firearms (ATF) visual communications system supports the Critical Incident Management Support Team (CIMST) by providing a high degree of situational awareness. In order to successfully accomplish this, ATF looked to Video Networks, Inc. to furnish them with a complete facility design, from lights and furniture to status displays and collaboration technology. VNI was also tasked with upgrading the visual communications systems and system capabilities in INTEL and the Directorís and Assistant Directorís conference rooms. These rooms were given similar capabilities, as well as smaller projection systems that support independent audio-visual needs and the capability view video feeds from the other rooms and share in video teleconferencing. In addition to this, VNI took on the Washington Field Division and equipped them with two projection systems with similar sources for display that includes numerous computer workstations throughout the room and video teleconferencing capabilities.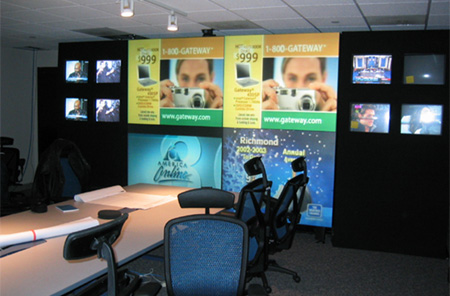 World Cup Soccer

For the 1994 World Cup Soccer Event, Video Networks, Inc. was tasked with the design, procurement, integration, installation, and end-user support for six Joint Operations Centers (JOC). Due to the overwhelming increase in population during the World Cup events, city-level law enforcement and emergency management capabilities were rendered inadequate. As a result, local authorities and Department of Defense personnel needed to have a complex center that combined sanitized intelligence reports, surveillance cameras located throughout the cities, police and fire radio communications, and military command and control, to enable effective oversight by elected officials. Video Networks, Inc. was enlisted to accomplish this feat. The contract was awarded to them only 60 days prior to the first game.

In order for their plan to succeed, VNI had to design the user interfaces to allow operation by local law enforcement personnel, who had little experience in sophisticated command centers. In spite of the short period of time, all six centers were online by the time the first game was played. Local law enforcement, local fire, CIA, State Department, DOD and civilian elected officials were able to work seamlessly for the duration of the games.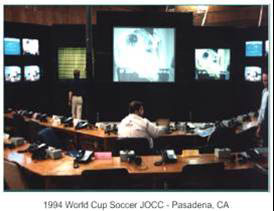 ---
National Geographic

Video Networks, Inc. was tasked with the modification of existing visual communications housed in the Executive Collaboration Room of National Geographic Headquarters. Keeping their customers needs in mind, VNI created a flexible space where the Chief Executive Officer and high-level management could meet to discuss projects and plans using versatile and easy to use AV technology. VNI delivered the design, hardware, installation labor, cabling, and documentation that produced a consolidated control system with which meetings could be recorded and posted on the intranet or burned to a DVD for future or external reference.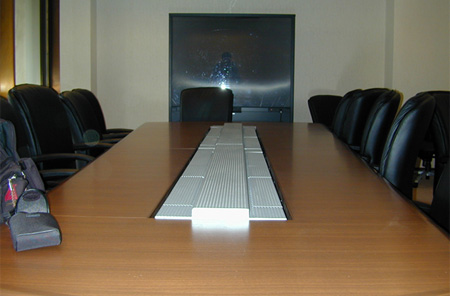 HBO

HBO contacted Video Networks, Inc. to upgrade their Large Screening Room, which is used to host press events and other high profile functions by combining film, digital video, and live talent. The room was originally intended to support only film projection, but recently, electronic presentations of both video and computer sources have increased in frequency of use.

The original system evolved over time without a master design, and much of the equipment was installed where it would fit, not where it belonged. This created a system that was all but impossible for a single person to operate and deliver an event.

VNI used their expertise to upgrade the system to a level that provided support for current requirements. Upon completion, a single operator was able to control video, audio, and lighting from a single location in a professional fashion.